General
The costs for a virtual SQL Server in Azure consist of three components: the compute costs, the license costs for the operating system and the license costs for SQL Server.
You can influence the costs for the calculation part through reservations or through adjustments in the dimensioning. If Windows Server is used, you can influence the costs by using the Azure Hybrid Benefit for Windows Server.
Finally, you can influence the cost of SQL Server licenses by using the Azure Hybrid Benefit for SQL Server. Under the Azure Hybrid Benefit for SQL Server, you may use your own licenses with active Software Assurance (SA) or rented licenses in Azure.
Azure Dedicated Host
Dedicated physical servers are available in Azure, on which unlimited virtualization is allowed. In that case, no license costs for the individual SQL VMs occur. This can be more economical, depending on the number of physical cores in the host(s) and the number of virtual cores in the VMs.
To use this benefit, you must assign SQL Server Enterprise core licenses with active SA to all physical cores.
Migration to Azure
You may not assign SQL Server licenses to the Azure Hybrid Benefit and concurrently assign the same licenses to on premise servers, except on a one-time basis for a period of no more than 180 days to migrate the same workloads to Azure. Upon completion of the migration to Azure or 180 days after the start of the migration, whichever comes first, the Licenses are deemed to be "assigned to Azure".
Failover Rights for SQL Server
SQL Server licenses with SA to Azure also entitle:
one Failover OSE for any purpose, including high availability; and
one Failover OSE dedicated to disaster recovery.
The Failover OSEs for disaster recovery must be asynchronous and manual. The number of licenses that would otherwise be required for a Failover OSE must not exceed the number of licenses required for the corresponding Primary Workload. Failover OSEs may not provide SQL Server data to users or devices or otherwise run active SQL Server workloads.
Assigning licenses
Only licenses with active Software Assurance or rental licenses may be used;
You may deploy licenses for SQL Server in Azure or on premise. Not in both environments at the same time;
Licenses may be used according to the rules in this table: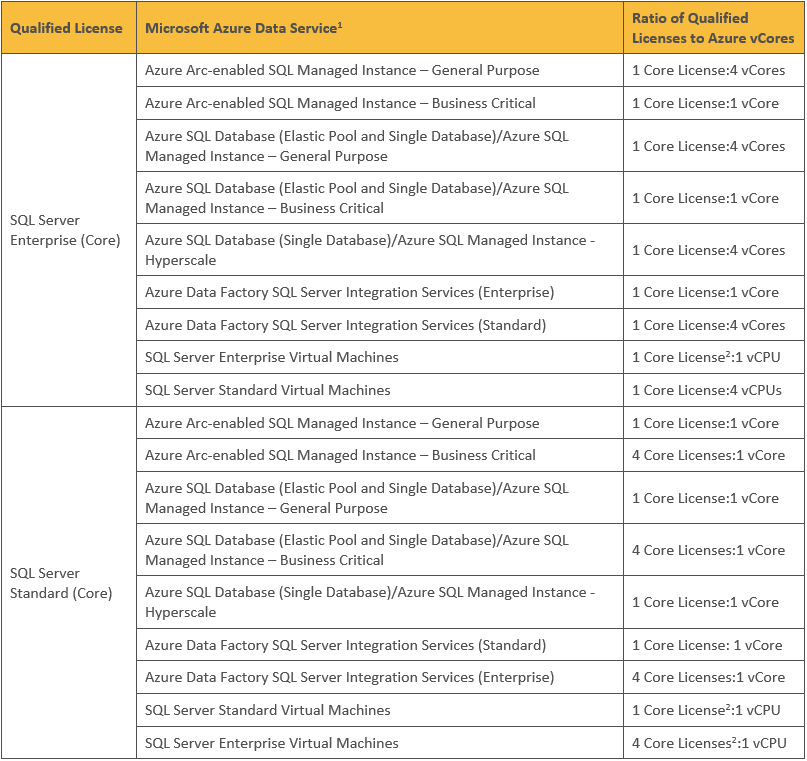 1Azure Hybrid Benefit is not available in the serverless compute tier of Azure SQL Database.
2Subject to a minimum of four Core Licenses per Virtual Machine.
Calculation example
It may be worth checking carefully whether it is beneficial to bring in your own licenses.
SQL Server Enterprise VM in Azure, 8 virtual cores, 400 hours per month:
Pay in Azure: € 14,400 per year
Own licenses in Enterprise Agreement Subscription level A (8 cores): € 20,800 per year
SQL Server Enterprise VM in Azure, 8 virtual cores, 730 hours per month (= always on)
Pay in Azure: € 26,400 per year
Own licenses in Enterprise Agreement Subscription level A (8 cores): € 20,800 per year